Rumor # 7 – Home Affordability Is Tanking
The 7th and final myth we'll explore today is no myth at all. Home affordability is tanking!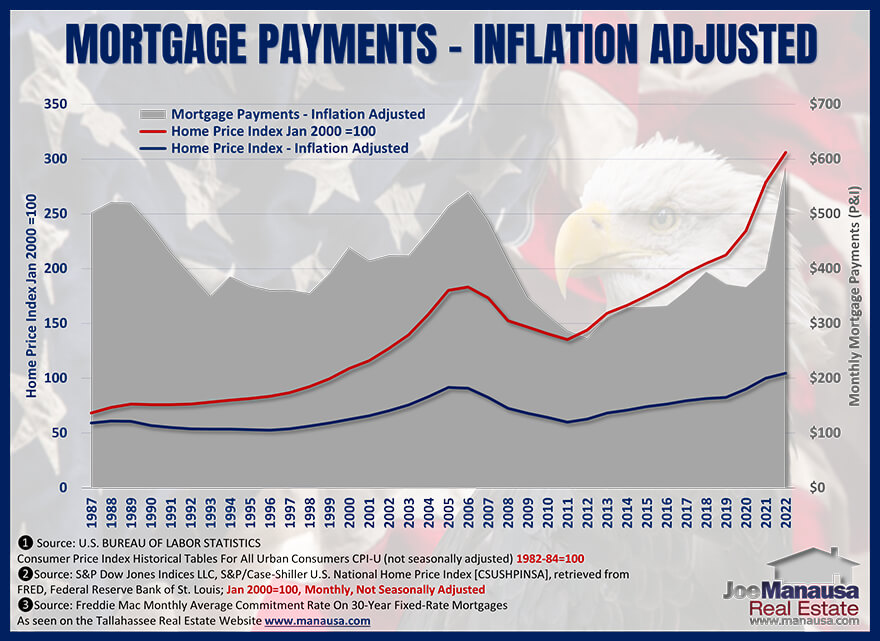 This graph plots the relative change in monthly mortgage payments (inflation-adjusted) for the past 35 years. I combined historical average monthly mortgage interest rates, the monthly home price index that accounts for price changes over time, and the consumer price index to adjust real monthly mortgage payments to ones relative to the current inflation rate.
The red line plots the Case-Shiller US National Home Price Index, where the January 2000 price is set to 100, and changes before and after are factored similarly. In other words, the red line shows the relative home price movement since 1987.
The blue line takes the home price information from the red line and then adjusts it with inflation data. It shows that today's buyer is paying more for a home than ever before, even after adjusting the price with today's high inflation.
The gray area in the graph plots the inflation-adjusted relative mortgage payment that buyers are making, and today's mortgage payment is the highest on record. In fact, it's more than 104% higher than what buyers were paying eleven years ago in 2011.
The result of rising home prices and elevated mortgage interest rates has pushed home affordability to an all-time low. The housing market has been carried by historically low mortgage interest rates and depressed home prices due to the housing bubble collapse 15 years ago. Today, the bubble is gone, inventories are low, prices are soaring, and we no longer get sub-3% interest when we borrow money to buy a home.
The near-historically low inventories are not just hurting home prices as we have seen rental rates rise at double-digit year-over-year percentages for more than a year. In the past, when home affordability fell, many people chose to rent. Unfortunately, rents are no longer affordable either.