Wage-Adjusted Monthly Mortgage Payments
The final graph in our report shows how the wage-adjusted monthly mortgage payment has changed since 1987.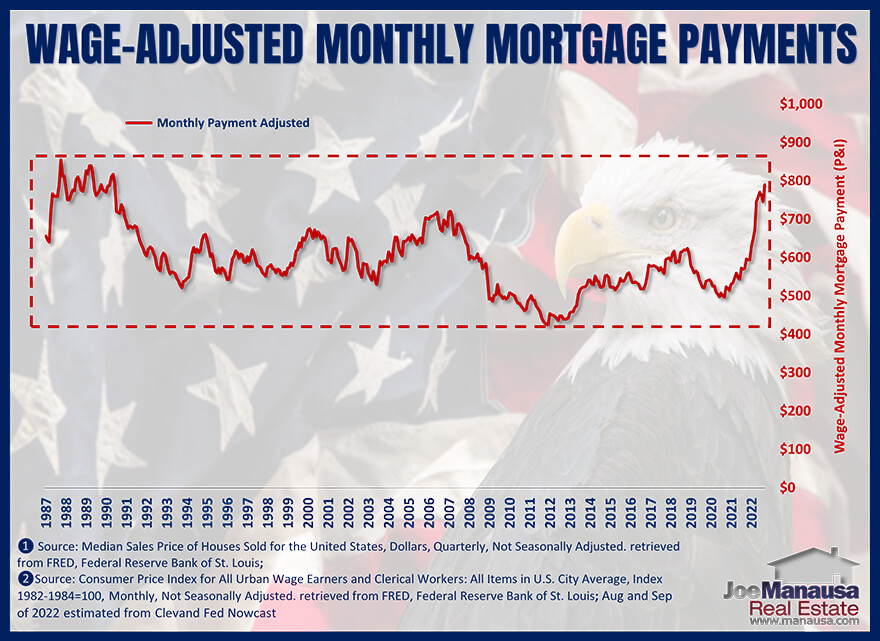 When adjusted as we have done in the graph, the monthly mortgage payment is represented in 1987 dollars. Surprisingly, today's crazy-high mortgage payments have not yet established a new high. Payments from 1988 through 1990 were often higher than today's payments.
What I find most interesting is how low wage-adjusted mortgage payments dropped at the end of 2011. In November of 2011, the wage-adjusted mortgage payment was less than 1/2 of the high reached in 1988. This reminds us how good the housing market has been recently, so we should expect tougher times ahead.
Are Wages Keeping Up With The Housing Market?
Based on the data explored today, it is clear that wages HAVE kept up with the soaring prices of the housing market. Monthly mortgage payments today are consistent with payments 35 years ago and are only slightly higher than payments 15 years ago. One could argue that we've had it really good of late.
 But will this trend continue?
I believe that it will, but things are going to get worse before they get better.
We should all brace for rising mortgage interest rates. The Fed has made it pretty clear that they are expecting to raise the Fed Funds rate several more times to curb inflation. This means that today's shocking home affordability levels are likely to be better than what buyers will face in 2023.
As far as wages go, it's a variable outside of my field of study. I can provide anecdotal evidence as a small business owner that I'm seeing wages much higher today than what we saw just two years ago. Starting salaries are far higher, pushing all salaries northward as well.
When you consider that many states have increased their minimum wage levels at rates far higher than the historical norm, I believe you should expect to see continued acceleration in wage growth. How the Fed reigns in inflation without trumping wage inflation is a question beyond my fields of study.
The effectiveness of the Fed's strategy over the next five years will have a great impact on home affordability in the years to come. Keep checking back with us from time to time, and we'll keep you in the know for housing.