New Construction Premium Points To Higher Prices
This graph was produced from my Tallahassee data set, which allows me to be very recent with my data. It plots the monthly median price per square foot of both new and existing homes, calculates the difference between the two (the new construction "premium" that buyers pay to get a new home), and then converts them to five-year trend lines.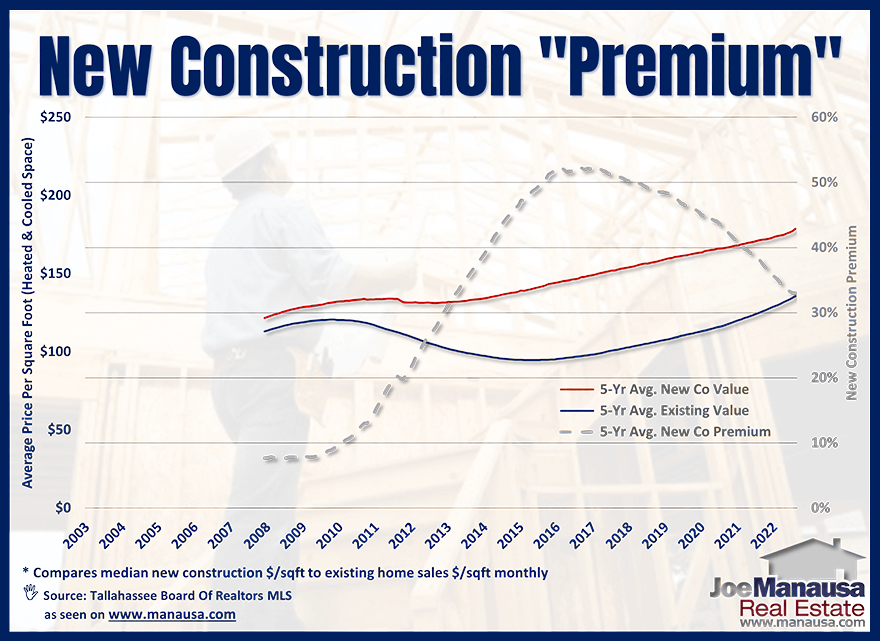 This graph starts with data from 2003 and shows the new construction premium has jumped from an average below 10% to as high as more than 50% back in 2016. When I looked back to dates before this graph, the premium was typically in the 5 to 15% range. Today, the five-year trend has dropped to 32%.
The combination of wage growth and the COVID-related supply disruptions have made homebuilding very expensive. We might see some relief from material costs, but as one local builder pointed out, "we won't see labor costs come down. In fact, they are soaring."
Of all the graphs in this report, I believe this one provides the best evidence that home prices will continue to increase. Yes, I expect the trajectory to slow, but I expect a jagged move upwards, just as we have seen in the past.