US Mortgage Market Pipeline
Things are changing in the mortgage industry.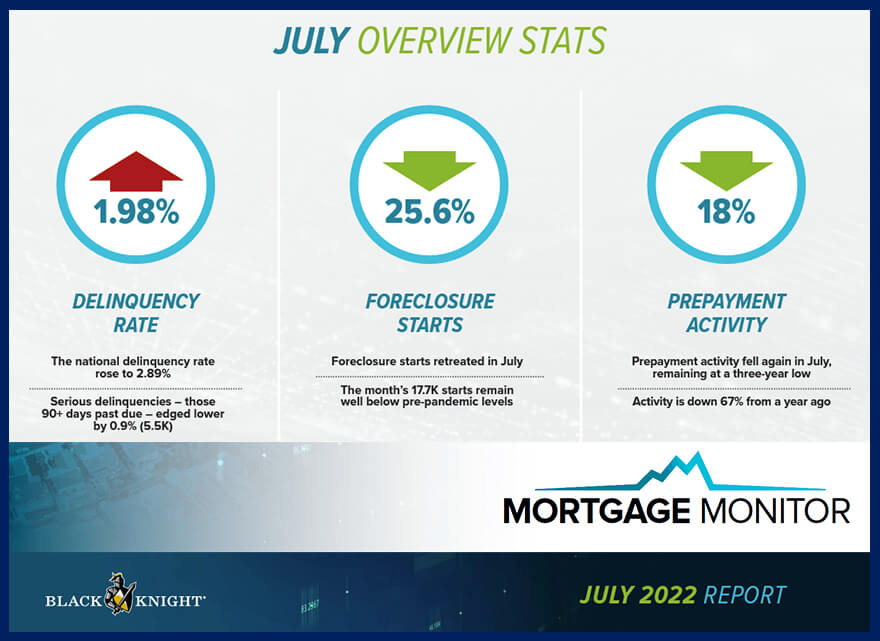 The mortgage delinquency rate rose nearly 2%, but as we'll see later in the report, delinquencies are now at pre-pandemic levels and recently set a new all-time low.
Black Knight reports that foreclosure starts dropped more than 25%, and remain well below pre-pandemic levels. Any fears of a pandemic-induced foreclosure crisis have been put to rest.
Prepayment activity remains at a three-year low, which is understandable as the dwindling supply of distressed property (coupled with rising mortgage interest rates) has cooled the refinance activities that had been the top solution for delinquent borrowers due to the pandemic.
Before we move on, let me emphasize the importance of each ensuing step in today's report. It will give you the FACTS, not hype, and you will have a clear understanding for any and all concerns about the US mortgage pipeline.
National Delinquency Rate For Mortgages
This graph plots the national delinquency rate on first-lien mortgages, an excellent barometer for anticipating a foreclosure crisis. It reports the percentage of mortgagors that are not up to date on their loan payments.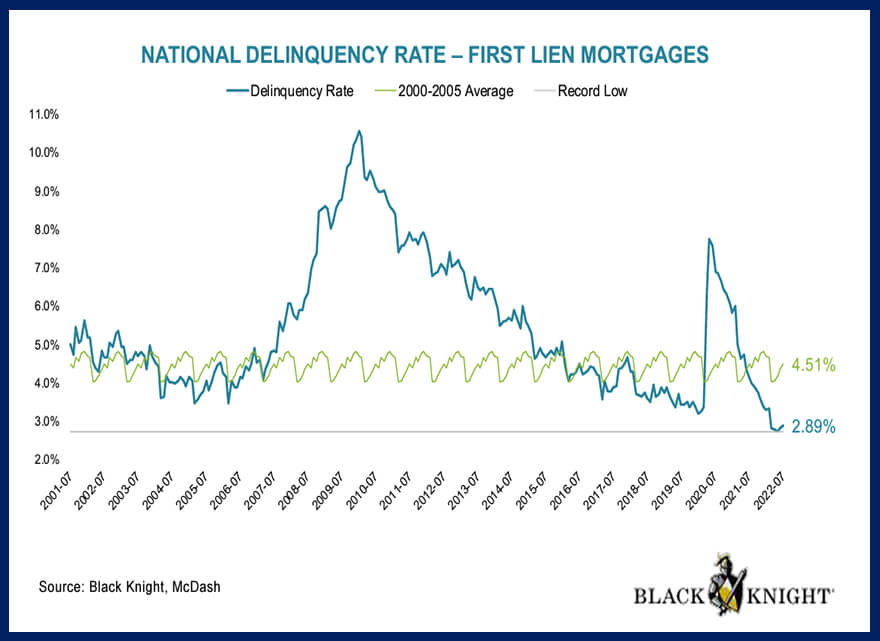 The dark line plots the quarterly delinquency rate, the light-green line plots the average recorded from 2000 through 2005, and the gray line plots the record-low delinquency rate. Here's what we can conclude about the national delinquency rate:
The national delinquency rate rose slightly to 2.89% in July and is now slightly above the all-time low set a few months ago.

The national delinquency rate is now 36% lower than the pre-Great Recession July average of 4.51%.

With more than twenty years of history in the graph, it is clear that today's borrowers are making their mortgage payments at a historically high rate.
These observations demonstrate the strength of the current housing market in terms of distressed properties and refutes any current claim that a flood of foreclosures is heading our way. But let's dig deeper!
Current Delinquencies By Severity
This next graph segments mortgage delinquencies by severity so that we have a better understanding of the extent that borrowers are failing to make payments.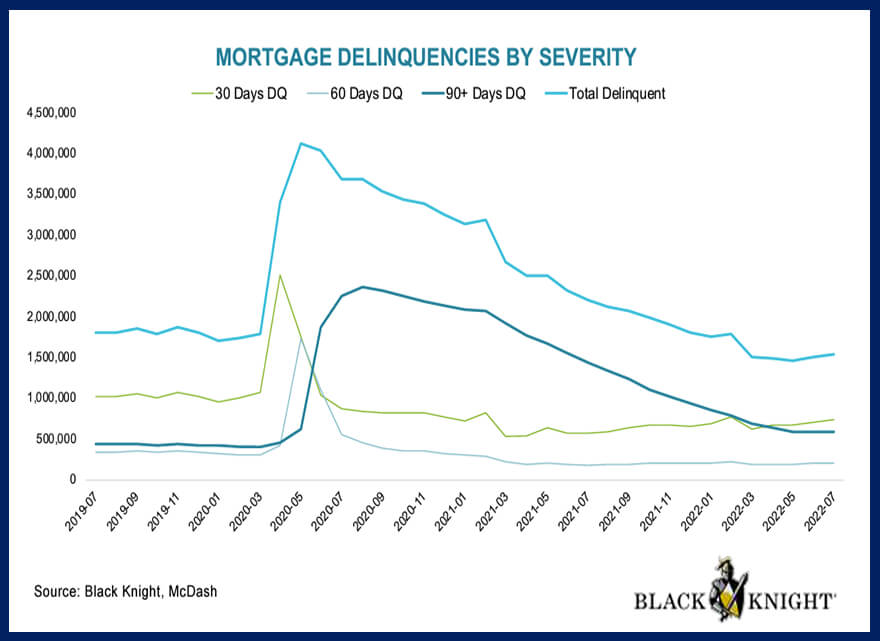 Overall, the trends are very positive, with the worst delinquencies showing huge declines and only new delinquencies showing gains. Perhaps the best takeaway from this graph is that only short-term delinquencies are rising (albeit at a very slow pre-pandemic rate).
This is a very important point that most real estate hypesters either fail to understand or purposely overlook in their reporting. Banks were not allowed to foreclose on most home loans that were delinquent during the pandemic until this year, so if a foreclosure wave was heading our way, we would have seen a huge number of foreclosure filings beginning in January. But we did not. And here is why:
The total number of delinquencies has been reduced by more than half since the start of the pandemic two years ago, and delinquencies are now lower than pre-pandemic levels (teal line). Serious delinquencies (those that have been delinquent for more than 90 days) have declined greatly in the past 17 months and are approaching the pre-pandemic level.