Inventory Of Homes For Sale Is Still Declining
In this graph, Zillow reports the number of unique listings active in each given month since the beginning of 2019.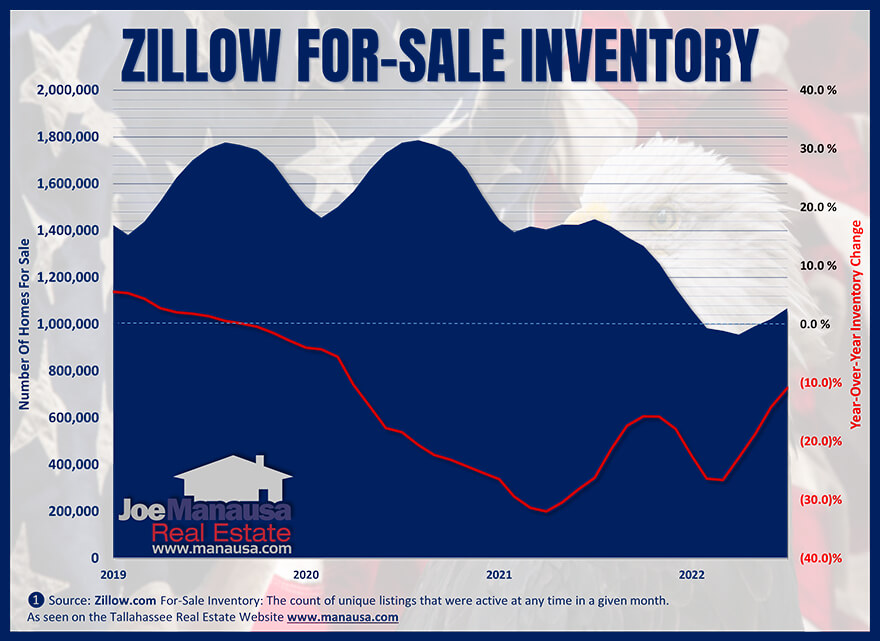 The blue field measures the number of listings, while the red line plots the year-over-year change in inventory. Look where the red line crosses the dashed-blue line in 2019, as that is when the market shifted from inventory growth to inventory reduction.
In 2019, the market was already slightly skewed to sellers, as inventory levels were below six months of supply. As time progressed, the supply level worsened, and bidding wars among buyers became the norm.
The 2019 inventories were roughly 600,000+ homes too few, yet homebuilder production did not step up to fill in the void. So rather than see rising inventories accompany rising mortgage interest rates, we've experienced the opposite effect.
The inventory decline is not so apparent to people who do not track market behavior regularly. With builders representing less than 10% of today's current inventory (compared to the 20+% in 2006), the existing homes inventory has greater control of the growth or decline of inventory levels.
Today, when a buyer opts out of the market due to affordability, it often is a buyer who would also have a home to sell. Thus a buyer leaving the market results in a seller leaving the market in roughly 50% of the cases. The move-up and move-down buyers have slowed, so inventory growth has slowed too.